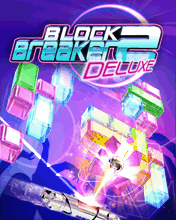 Download Block Breaker Deluxe 2
Forget everything you know about brick-breaking games! By downloading Block Breaker Deluxe 2 onto your iPhone, you'll have fun rediscovering this great cult game, totally updated for the first time. Besides offering visuals and animations never before seen in a puzzle game – ultra-realistic ball and pad controls, 3D bricks creating stunning and dynamic shapes, touch-screen and accelerometer features, etc.
Block Breaker Deluxe 2 is also the only game of its kind with a spirit: its elaborate, colorful settings – sometimes mellow, sometimes trendy – will provide a guaranteed change of scenery during supercharged rounds of brick-breaking!
Features
More modes, levels, power-ups, challenges, bosses, and surprises than any other game in the genre!
Dynamic bricks and obstacles, all designed in 3D with next-gen visual effects.
Use the touch screen to intuitively control the pad and directly grab bonus items as they fall.
Accelerometer allows you to re-arrange or rotate brick formations by simply tilting the iPhone.
Infinite replay value thanks to a random level generator in Endless Mode.
Multi-player mode allowing two people to face off in real-time matches on the same iPhone.
Screenshots: